The American Association of University Women (AAUW) empowers women and girls through advocacy, education, philanthropy, and research. Our nonpartisan, nonprofit organization has more than 150,000 members and supporters across the United States, as well as 1,000 local branches and 700 college and university partners. Since AAUW's founding in 1881, our members have examined and taken positions on the fundamental issues of the day — educational, social, and economic.
Founded in 1948, the Riverside, IL Branch of the American Association of University Women, a friend to education, sponsors programs and activities that support the intellectual and personal development of its members and of the community, with particular emphasis on women and girls.
***********************************************
Holiday Tea
2:00 P.M. Sunday, December 2, 2018
PJ Klems
8000 Ogden Avenue
Lyons, IL
Program: Holiday Celebration
Presenter: TBA
Join us for a musical holiday program as we celebrate the season and the 70th Anniversary of Riverside Branch AAUW.
Paper shower for Constance Morris House
(Please bring paper towels, napkins, paper plates, notebook paper, toilet paper, etc.)
***********************************************
Fall Tea
2:00 P.M. Sunday, October 14, 2018
Riverside Library – Quiet Reading Room
1 Burling Road
Riverside, IL 60546
Program: Legalize Equality – Why ERA?
The Equal Rights Amendment (ERA) is a proposed amendment to the U.S. Constitution that would prohibit discrimination on the basis of sex. It was written by Alice Paul in 1921, a year after women won the right to vote, and was first proposed to Congress in 1923. ERA passed Congress in 1972 with approval from two-thirds of the U.S. House and U.S. Senate. To ratify a constitutional amendment, three-quarters of states must agree to the proposed amendment, and the deadline for ratification of this amendment was 1982. The state of Illinois ratified ERA on May 30, 2018, bringing the total to 37 of the necessary 38 states. It is thought that ERA stands a good chance of being accepted if one more state ratifies the amendment.
Riverside Branch AAUW will share a presentation entitled "Equal Means Equal". This event is co-sponsored by the Riverside Public Library.
The public is welcome to attend this presentation. Refreshments will be served.
***********************************************
"Have an Appetite for Education?"
Weekdays only   –  June 4 through June 8, 2018
Weekdays only   –  June 11 through June 15, 2018
Bring the voucher below with you to: Culver's Restaurant, 8211 Ogden Avenue, Lyons, IL
Just mention this fundraiser anytime during the designated dates.
Culver's will share 10% of your purchase with the Riverside Branch.
***********************************************
Spring Tea
2 P.M. Sunday, May 6, 2018
Riverside Library – Quiet Reading Room 1 Burling Road
Riverside, IL 60546
Program: Annual "Friend to Education" Awards
Help us celebrate Spring and this year's Branch Local Philanthropy award recipients, including the Ann Willard and STEM (Science Technology Engineering Mathematics) scholar(s).
One or two young ladies from L.J. Hauser Jr. High School will also join us to share their experiences with this year's Hauser Cougar ADVANCE Program.
***********************************************
Come to see all 4 views of the Riverside Branch's 70th anniversary display in real life at the Riverside Public Library. Thanks to Diane Balin, Nancy Dvorak, and Kathy Lipinski for designing and setting this up! And many thanks to Connie Guardi from the Riverside Historic Commission for access to the archived materials.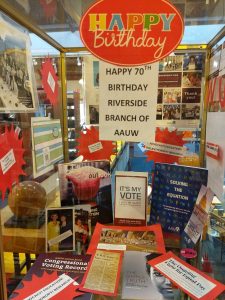 ***********************************************
Reminder about our upcoming branch meeting and program: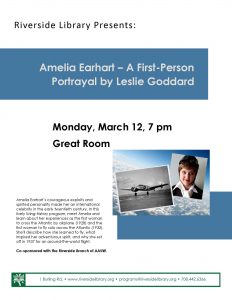 ***********************************************
'Tech Savvy' is a daylong science, technology, engineering, and math (STEM) career conference designed to attract girls in sixth through ninth grade to these fields and to inform mentoring adults about STEM education and careers and how they can support the girls' interest and success in STEM. It will be held March 24, 2018 at Triton College. Registration information is below.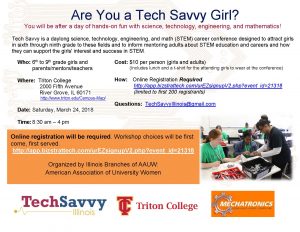 ***********************************************
March 12, 2018 – Branch Meeting — Annual Meeting, Riverside Public Library Community Room, 6:30 pm; Program features Leslie Goddard speaking on Amelia Earhart
***********************************************
Holiday Tea
2:00 P.M. Sunday, December 3, 2017
PJ Klems
8000 Ogden Avenue
Lyons, IL
Program:  Holiday Strings
Presenter:  Patricia Goyette-Gill, Director
Join us as we enjoy the holiday spirit with about 14 students from the Hauser Chamber Orchestra.  This is an auditioned group made up of students from the 6th, 7th and 8th grades. It is led by Patricia Goyette-Gill who has been teaching in Riverside District 96 for twenty nine years and started the District 96 string orchestra seventeen years ago.  The program has grown from ten students to the current approximately one hundred and seventy five string players in grades 5, 6, 7 and 8.  Patricia plays cello and piano with the West Suburban Symphony and West Suburban Chamber Orchestra.
Paper shower for Constance Morris House
(Please bring paper towels, napkins, paper plates, notebook paper, toilet paper, etc.)
Hospitality committee:  Nancy L. Scott, chair
with: Diane Fator and Pat Heilenbach
***********************************************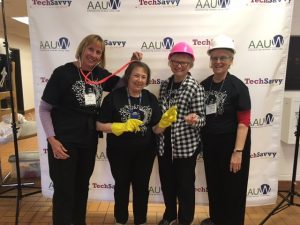 Fun picture from the Tech Savvy Workshop at Triton College on Saturday, March 25, 2017.
Riverside Branch member Diane
Balin
on far left. Some 6 to 9th grade girls from Riverside attended and
learned
about STEM careers with hands-on workshops.
***********************************************
Annual Meeting
PROGRAM:
Every Quilt Tells a Story

PRESENTER:
Nann Blaine Hilyard
DATE:
Monday, March 13, 2017
LOCATION:
Riverside Public Library, 
1 Burling Road, Riverside, IL
TIME:
6:30 P.M. Branch Annual Meeting

7:00 P.M. Program 
AAUW Riverside Branch is delighted to feature a program with AAUW's own Nann Blaine Hilyard. Nann is a retired librarian, volunteer, and quiltmaker. Nann made her first quilt in 1974 when she was a graduate student. She has gotten years of good use out of both the quilt and the degree. Needlepoint and cross stitch kept her occupied until the early 1990's when she discovered that quilts could be pieced and quilted by machine. Since then Nann has acquired a tremendous fabric stash, a great deal of which has been actually cut up and sewn back together in finished quilts. She collects vintage quilts and other textiles. She is the immediate past president of the Northern Lake County Quilters Guild and belongs to several virtual quilting groups, including the Magpies who have been chattering online since 1997.
About The Program: Call them art or call them craft – in the 21st century quilts are also a multi-billion dollar business.  Quiltmaker and quilt history enthusiast Nann Blaine Hilyard will talk about quilts past and present (with a glimpse into the future as well).  She will show vintage and contemporary quilts from her collection and explain the construction and design concepts.
Audience members are encouraged to bring quilts they own, whether received as gifts, inherited, or made.
Please invite your friends and neighbors to attend. All are welcome!

***********************************************
ANNUAL FALL TEA
PROGRAM: Martha Washington, Our Founding Mother
DATE: SUNDAY, OCTOBER 23, 2016
LOCATION: Riverside Public Library
1 Burling Road, Riverside, IL
TIME: 2:00 P.M.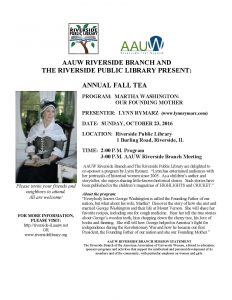 ***********************************************
AAUW Riverside Branch is delighted to feature a program by Lynn Rymarz on Monday, March 16, 2016 at 7 pm at the Riverside Public Library. "Lynn has entertained audiences with her portrayals of historical women since 2005. As a children's author and storyteller, she enjoys sharing little-known historical stories. Such stories have been published in the children's magazines HIGHLIGHTS and CRICKET."
About the program: As the final season 6 of the popular PBS show 'Downton Abbey' draws to a close, Lynn Rymarz shares the story of Lady Catherine, Countess of Carnarvon. Hear the fascinating true story of how Catherine Wendell, an American born woman, met and married the Sixth Earl of Carnarvon, and made a life for herself and her family living in Highclere Castle, the real home for the setting of Downton Abbey. Learn how her father-in-law became world famous after discovering King Tutankhamun's tomb, and dying shortly thereafter, by what some said was "the curse of the Pharaoh". This portrayal is woven from the book, "Lady Catherine and The Real Downton Abbey," written by the current Countess of Carnarvon.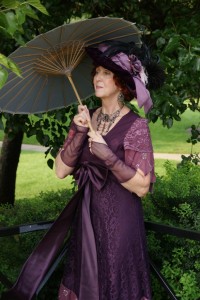 ***********************************************
ANNUAL FALL TEA
SPEAKER: Abby Brennan, Owner, Brennan Massage and Spa
DATE: SUNDAY, OCTOBER 11, 2015
LOCATION: Riverside Public Library
1 Burling Road, Riverside, IL
TIME: 2:00 P.M.
Riverside Branch AAUW is delighted to feature a presentation by Abby Brennan, Owner, Brennan Massage and Spa for its Annual Fall Tea. Abby will share her personal story of starting out as a Massage Therapist, becoming a business owner, and how she manages to balance work and family life!
About Brennan Massage and Spa (http://brennanspa.com): "Nestled in the quaint village of Brookfield, Illinois, Brennan Massage and Spa is the first day spa of its kind. Brennan Massage and Spa reaches customers throughout the Chicagoland area into the Western Suburbs." "The Day Spa is located in one of the original homes built in Brookfield in the late 1800's and is hard to miss as it stands in the heart of the village." "Its allure relieves tension upon entering as it resembles the comforts of our own homes. The original wood work, sunlit reception area and cozy treatment rooms are just a few of the Spa's unique features."
Please invite your friends and neighbors to attend. All are welcome!
***********************************************
AAUW Program – Women's History Month – March 2, 2015, 7:00 pm
Riverside Public Library Community Room
Leslie Goddard portrays Mary Pickford: America's Silent Film Sweetheart
Mary Pickford delighted millions of filmgoers in the earliest days of Hollywood. In a career that stretched from 1909 to 1933, she was celebrated for her long blonde curls and childlike air of
innocence on screen. But as this first-person portrayal shows, her legacy encompasses much more than her acting.
"America's Sweetheart" was arguable the first modern celebrity, becoming a bigger global box office draw than any of her silent film star contemporaries. Pickford was also an astute mogul, the first woman to found an co-own a studio, negotiate contracts that earned her millions, and produce some of the best-regarded films of her era.
The years 2014-2015 mark the 100th anniversaries of two significant Pickford films: Hearts Adrift (1914), which marked the first time her name appeared above the title on movie marquees, and Tess of Storm Country (1915), which sent her career skyrocketing and made her the most popular actress in America, if not the world. This portrayal explores Pickford's remarkable career as well as her unique legacy as a major film executive and enterprising businesswoman. Learn why her biographer, Eileen Whitfield, call her simply "the woman who made Hollywood".
History comes alive in the talented hands of historian Leslie Goddard, Ph.D., who tells fascinating stories and creates vivid portraits of some of history's most memorable women.
This presentation is made possible by a grant from Illinois Humanities Council (IHC), which is
supported in part by the National Endowment for the Humanities (NEH) and the Illinois General
Assembly (through the Illinois Arts Council, a state agency), as well as by contributions from
individuals, foundations and corporations.
************************************************
AAUW Fall Tea
Sunday, October 5, 2pm
Riverside Public Library

Women in the Film Industry: Finding a Voice (While Saving Elephants)
Only 6% of all directors working on the top 250 films of 2013 were women. Riverside Brookfield High School graduate and award winning Columbia College film student Haley Buntrock discusses the importance of getting more women behind the camera to better represent women in America. Through her short films and personal experiences, including a trip to film a documentary about endangered elephants in Sri Lanka, Haley offers you insight through the eyes of a film student.
The public is welcome to attend this presentation by a talented young film director-to-be who just happens to be a woman. Refreshments will be served.
************************************************
2014 Scholarship winners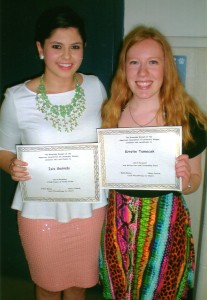 Isis Galindo (left) was our first STEM Scholar and Kristen Tomecek was our Ann Willard Arts Scholarship winner. Please see our Scholarships page for more information.
************************************************
What's better than the 2015 AAUW National Convention in San Diego?
Not paying a nickel for registration.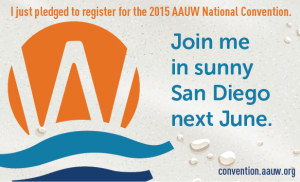 "Pledge to Reg" today for your chance to win a free registration!
Visit convention.aauw.org and fill out the pledge to enter.
************************************************
THE FISCAL CRISIS AND MENTAL HEALTH CARE IN ILLINOIS
TO BE ADDRESSED BY RIVERSIDE'S AAUW GROUP
On Wednesday, April 16, the Riverside branch of AAUW will sponsor a talk at the Riverside Public Library on "The Effect of Illinois' Fiscal Crisis on Mental Health Services," to be given by Heather O'Donnell of Thresholds, an agency providing healthcare, housing and other services for those living with mental illness. The program will be begin at 7 p.m. and is open to the public.
"Serious mental illnesses are no different than cancer, heart disease or other medical conditions," says O'Donnell, a lawyer who leads public policy and advocacy efforts for Thresholds. "These illnesses are treatable," she goes on to say, "and individuals living with even a serious mental illness can recover and lead healthy, productive and fulfilling lives."
The Riverside branch of AAUW, which is sponsoring this event to help mark its 65-year anniversary, is hopeful that talks such as this one will bring added attention to a topic that comes up every time there's a mass shooting.
"Sandy Hook haunts us all," says Mary Kitzberger, a former principal who now leads the Riverside branch. "But with early intervention, there's hope that future Sandy Hooks can be prevented. That's not the only reason we've invited Heather O'Donnell to speak, but it is one reason why we should all be paying more attention to this subject."
In addition to sponsoring lectures of a civic nature, the Riverside branch helps District 96 schools celebrate Women's History Month and is a sponsor of Cougar D.A.R.E. It also provides yearly scholarships to young women graduating from Riverside-Brookfield High School.
************************************************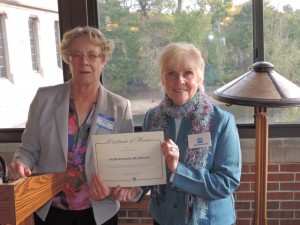 Linda Henning Cohen – AAUW Illinois District 4 Director, presents the Certificate of Honor from AAUW National, signed by AAUW President Patricia Fae Ho, to Mary Kitzberger at the Fall Tea, October, 2013.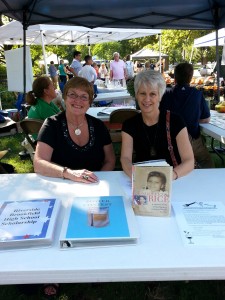 Nancy Dvorak and Robin Benoy at the Community Table of the Riverside Farmer's Market, explaining AAUW-Riverside to interested persons.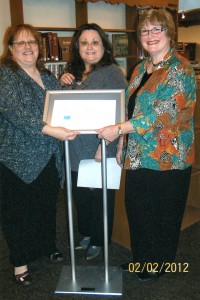 In 2012, the Riverside Branch of AAUW donated a community program stand to the Riverside Public Library in appreciation of the past 16 years that the library has partnered with our fourth grade Poster Contest.
Left to right: Janice Fisher, Library Director, Dorothy Sikora, Library Public Relations, Nancy Dvorak, AAUW Philanthropy co-Chair